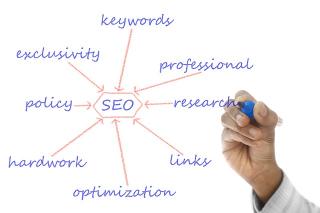 search engine optimization firm" />If you have been thinking about hiring an SEO company to increase your online presence and establish your brand recognition, you may not really be sure about what they can actually bring to your business. If so, you are probably considering what type of benefits there are to working with a search engine optimization firm, as opposed to handling your website's SEO on your own. As a leading SEO firm, Blackwood Productions knows there are many benefits to outsourcing your SEO. Over time, these benefits greatly outweigh the money that you may save by trying to do this yourself, especially if you're short on time and inexperienced within the industry.
Our Experience
Blackwood Productions is considered the number one rated search engine optimization firm that offers the professional know how and beneficial resources and tools that will change the way you think, when it comes to properly advertising your business and brand. Without SEO, your website may never gain the exposure it needs to rank highly on a search list. Unless your site is properly developed to load quickly and target the most relevant keywords, you may find that it is extremely difficult to increase your online sales without investing a substantial amount of capital in other marketing strategies.
The success of your business shouldn't be based on experiments and trial and error. If you don't have the expertise in this field, it's actually possible for SEO to harm your site rather than help it. For example, link-building can certainly help your control, but the wrong kind of links can result in your site being sanctioned, and even removed from search engine results as punishment. By placing your trust in Blackwood Productions for your company's SEO, you will never need to worry about an unsuccessful attempt in promoting your name and brand, as we guarantee our proven results.
Benefits of Outsourcing Your SEO
If you work with a professional SEO company, such as Blackwood Productions, you'll be able to focus on doing what you do best, which is obviously running your business, while we take care of the rest. You'll also be less stressed about how your website is performing in a search because you'll have the peace of mind of knowing that a firm of professionals are handling it for you. One of the best ways to find a reputable agency is to read client reviews and testimonials that you can find directly on the company's site, and you can also turn to other sources, such as Yelp and Google, to learn more about the experiences that clients have had with them.
Contact Us
If you would like some additional information regarding how an experienced and professional search engine optimization firm can truly benefit your company's awareness and brand recognition, Blackwood Productions would like you to check out our web site at blackwood.productions and take a look at all of the services that we offer. You can also call us at 877.823.1543 and speak with one of our knowledgeable team members for any additional information.